6 Great Reasons To Buy From Us:



Price Match Gurantee




100% Satisfaction Guaranteed




30 Day Returns




No Sales Tax




0% Financing




Top Reviews
Synca Kangra 4D Massage Chair
Order in the next to get it by
Only .. left! .. people are viewing this, and .. recently purchased it
.. Visitor Right Now
6 Great Reasons To Buy From Us:



Price Match Gurantee




100% Satisfaction Guaranteed




30 Day Returns




No Sales Tax




0% Financing




Top Reviews

THE ULTIMATE IN RELAXATION.
A Dedicated comfy zone just for you, a special place in your home,
a retreat from the stresses of daily life.
KAGRA is a luxurious accent to any room.
From relaxing the body to massaging away fatigue,
KAGRA helps improve your quality of living.
Lounge on it like a normal chair, take a nap, get a targeted, stretch,
and full body massage; KAGRA has the versatility, performance,
and features to meet all your needs.
REFINED ENGINEERING AND DESIGN.
LIKE A PIECE OF POLISHED FURNITURE.
A blend of traditional massage and modern elegance that blends seamlessly into your home.
Not so modern it seems out of place, not so traditional it feels stuck in the past.
Clean lines
and durable materials.
Don't let the smooth lines fool you, underneath the streamline appearance lies years of research and devel­opment into the best components. KAGRA uses premium materials and com­ponents in it's construction to ensure this investment in your wellbeing lasts.
Luxurious
color variations.
3 classic colors perfect for your living space. Colors that coordinate with your furniture and fit your home and your life.

ZERO GRAVITY POSITIONING -
 

MAXIMIZING EFFECTIVENESS,
EFFICIENCY AND COMFORT.

It's easy to build stress, tension, and back pain in your daily life due to disk compression in the back.
When utilizing zero gravity you're placing your body in a neutral posture position
which allows those disks to decompress and reduce pressure on the back.
Couple that with the therapeutic massage and you'll feel the tension melt away.
4D real massage technology.
The ultimate in Precision
and the ease of
being auto programmed.
4D mechanisms make it possible to deliver multiple Shiatsu techniques learned in Japanese Shiatsu schools. 4D is superior technique execution utilizing rhythmic vertical, width, and depth motions as com­fortable as if they were real human hands. To relieve stiffness in specific different regions you can create your own custom massage course to focus on them by selecting any of the manual or auto technique that you need, with one button touch they are saved for the next time you need them.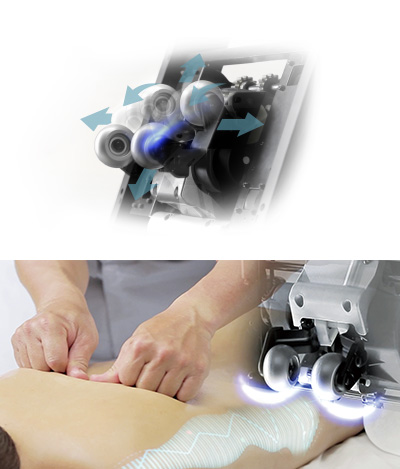 Real body sensing,
customizing the massage
points and intensity
best fit for you.

Through high performance dual layer sensors, KAGRA delivers an optimal and customized massage experi­ence contoured to each individual's body. Press one button and your choice of 8 auto courses, foot massage, or various stretch options; lets you enjoy an effective and therapeutic massage.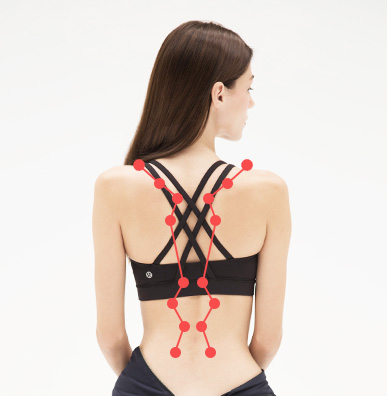 From head to toe,
ergonomic massage
posture.

Adjustable backrest and footrest angles. Armrest positions that automatically adjust in conjunction with the recline of the backrest ensure full contact with all massage surfaces. Whenever you want to take a nap, KAGRA makes you feel as cozy as lying in bed. Turn on the triple layer heater and you'll never want to get out.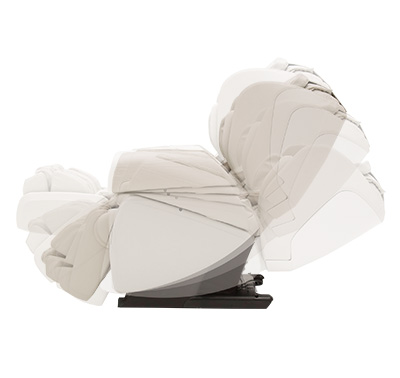 Unique upper body
heating feature. Keep
warm from head to toe.
Even if you feel cold you won't need a blanket. The heat pad can lay behind you to heat your back, in front for your chest and stomach, and even your hands with its pocket hand warmers. Add in the foot and calf heat and you'll be warm all over. Heat not only helps circulation, but helps loosen muscles and helps you achieve a peaceful relaxing time.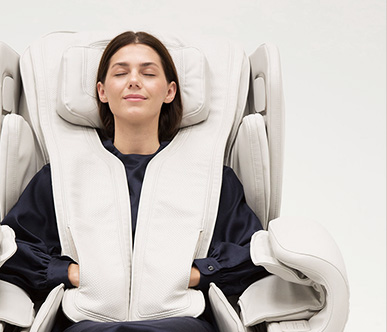 Immerse yourself
in the experience
with wireless speakers.
Bluetooth speakers are blended into the headrest so you can soothe your mind while you soothe your body by listening to the music you need. Not listening to music? The speakers are Bluetooth and wireless so you can stream whatever your favorite show is from your smart TV through the chair. There's also a specially designed storage pocket to place or retrieve your smart phone / tablet at your convenience.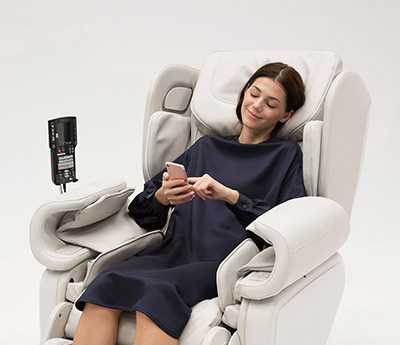 Adjustable footrest.
Multi-functional rotating
ottoman so it's your chair,
not just your massage chair.
The Multi-functional footrest can be used for three purposes which are foot and calf massage, flipped to become an ottoman like a recliner, or stored to save space and look nice. KAGRA can be a recliner to rest on and sleep even. This adjustable footrest articulates its angles which extends and changes angles to accommo­date users with different heights, so everyone can use the chair.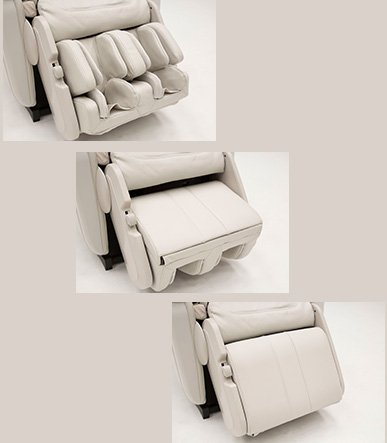 Finger Tip Keys -
Controls you barely
have to lift a finger for.
It's easy to change incline and recline when the shortcut keys are at your fingertips. You're able to adjust backrest and footrest angles, massage intensity, and select/change preferred courses. Even if you are unfamiliar with the chair, one finger motion can get you what you desire.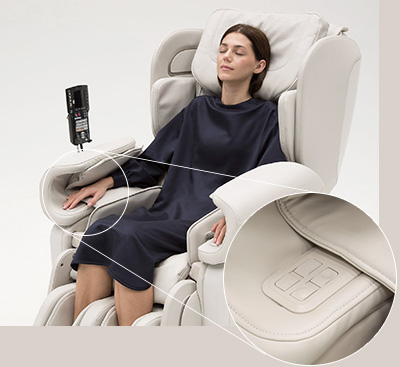 Manufacturer
Synca Wellness
Model Number
KANGRA

Weight

211.6 LB / 96KG

Size

Upright:L53.1 x W35.0 x H48.4 IN / L135 x W89 x H123 CM




Reclined:L73.6 x W35.0 x H36.6 IN / L187 x W89 x H93 CM

Voltage

100-240Vac, 50/60Hz
Synca Wellness 3 Year Limited Warranty
Synca Wellness covers the CirQ with a 3 Year Limited Warranty that includes 3 years on Parts, 3 Years on Labor, and 3 years of structural framework.
GREAT CHAIR, AMAZING SERVICE.
We had been looking for a massage chair for several years. We decided to purchase our chair because of the deep massage it gives. The many programs help with finding the right massage for you.
AMAZING
Bought the kagra chair a couple weeks a ago and the whole family has enjoyed every minute. It has become so popular we have a nightly schedule to make sure everyone gets some time. Great programs and flexibility to hit the spots needed. After a long day it is a great way to wind down.
SYNCING IN THE CHAIR
After this chair gets done with your back and neck you feel like you have melted into the chair. The best part of this chair is my wife doesn't complain about a space ship looking chair. I can flip the legs around and use it like an ottoman. They also don't stick out into the middle of the room.
BEST CHAIR I EVER TRIED
This is the quietest, most relaxing massage chair
Best I Have Ever Used
By far the best of I have used. Very well made. I love the deep massage, and the precise of the massage in the neck and lower back amazes me as it hits all the areas perfectly. You can easily adjust the massage from light to deep, which is a feature I did not have in my old chair. The 4d makes a big difference. Overall very happy with the upgrade.