6 Great Reasons To Buy From Us:



Price Match Gurantee




100% Satisfaction Guaranteed




30 Day Returns




No Sales Tax




0% Financing




Top Reviews
Synca Circ Compact Massage Chair
Order in the next to get it by
Only .. left! .. people are viewing this, and .. recently purchased it
.. Visitor Right Now
6 Great Reasons To Buy From Us:



Price Match Gurantee




100% Satisfaction Guaranteed




30 Day Returns




No Sales Tax




0% Financing




Top Reviews
Too comfortable for a "Chair"
A Place of your own. You won't be able to resist sitting here.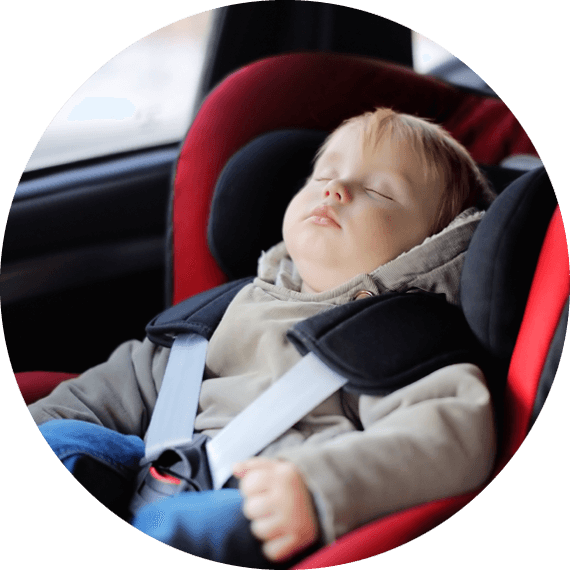 A chair fits your body and gives you a sense of security
A special chair that fits your body as if it's tailor-made. It was designed to be ergonomically correct to make you feel secure and comfortable.Once you sit on it, you don't want to move.The SYNCA Compact Massage Chair will make you want to exist in the moment forever.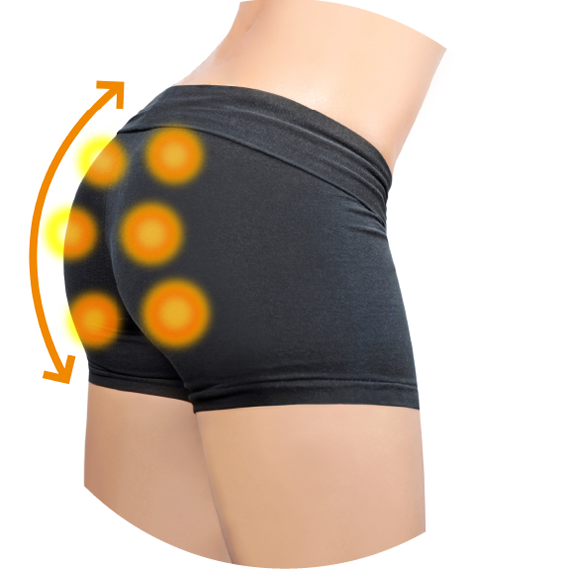 The massage hands move up and down from your buttocks to back of thighs
Compared to conventional chairs that only have air and rolling functions, SYNCA's compact chair provides professional massage technique execution including "Tapping" and "Kneading".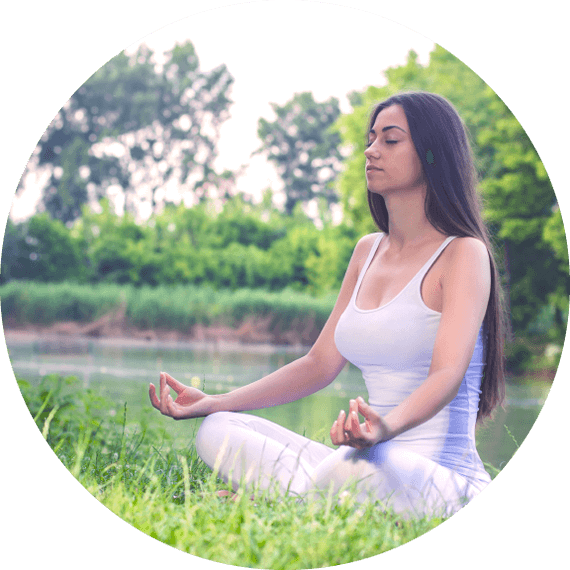 Get rid of everyday fatigue and stress with Lower Body Core movements
It's difficult to exercise and move freely if the muscles in the lower core are rigid.With alternating hip movements from left to right you can loosen up the muscle near the base of the spine to help reduce lower back pain.SYNCA's compact Massage Chair loosens the lumbar paraspinal muscles through its alternating gentle movement from left to right using it's whisper quiet air cell technology and gentle precise massage hands.
MASSAGE
Massage with a variety of courses
You can select to massage your whole body or a pinpoint location with an easy-to- use controller. You can choose your favorite massage course according to your mood, muscle tension, and tiredness.
MASSAGE
Real hands massage
The Intelligent massage hands imitate a massage therapists method of kneading to feel as if they are real hands with the strength ranging from "Strong" to "Gentle".
Design
Uncompromising Interior Design
The design of this compact massage chair matches whatever living space you are in.All you need is a little space for the round compact body to bring a little slice of heaven into your home.
DETAILS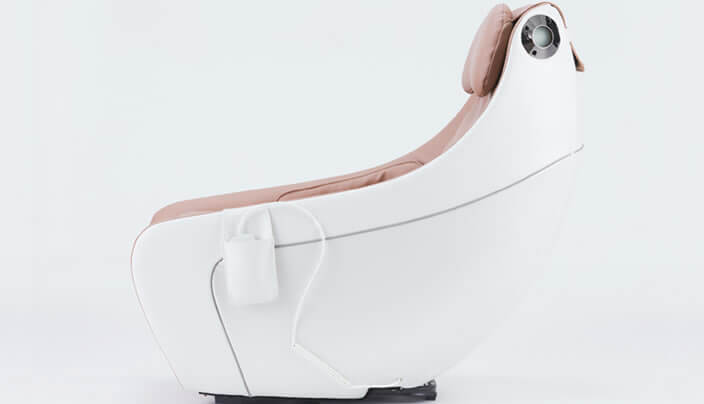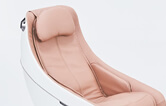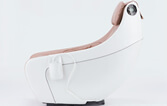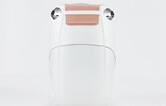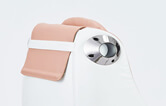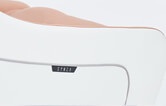 OTHER FEATURES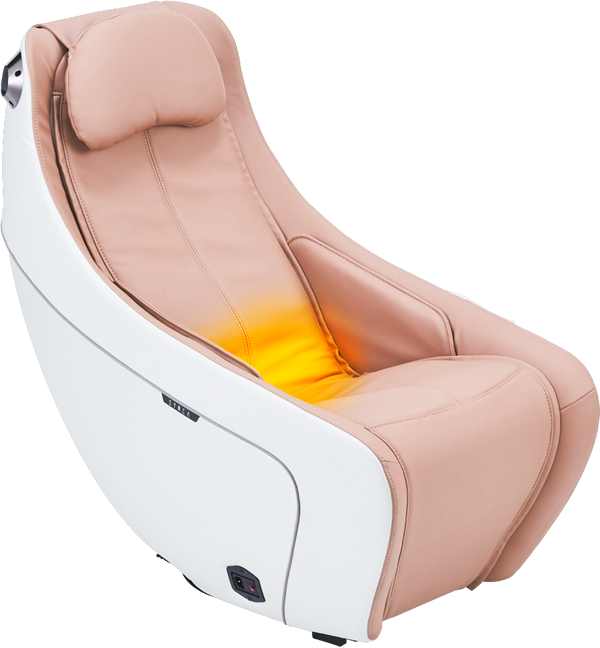 Heat Therapy
The restorative heat therapy penetrates the whole body from the waist to the back, enhancing the effect of the massage. Experience comfort like a hot spa.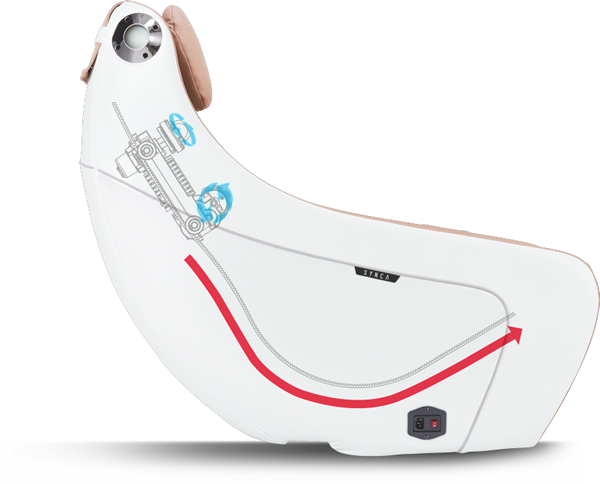 From upper back to back of your thighs
The massage hands move up and down to pinpoint locations from your Trapezius to your Hamstring. The L Shape Rail allows for 34 inch (86.4cm) long massage strokes.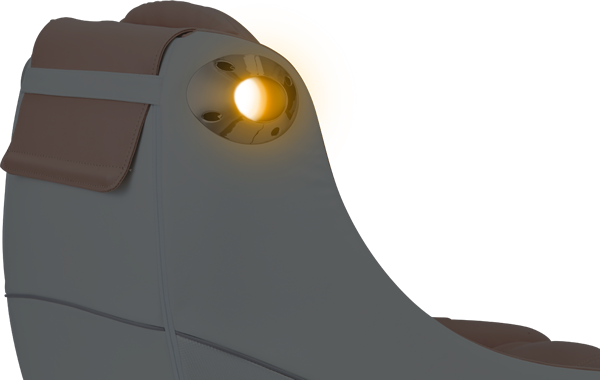 Ambient Lighting
There are lights located on either side of the headrest which generate a soft candle glow. The gentle orange lighting illuminates the direction of your relaxation.
| | |
| --- | --- |
| Manufacturer | Synca Wellness |
| Model Number | CirC Compact Massage Chair |
| Weight | 70lbs (31.5kg) |
| Size | W21.6 x H37 x D39 (W550×H940×D990mm) |
| Maximum Load Capacity | 250lbs (113.6kg) |
| Power Consumption | 50W |
Synca Wellness 3 Year Limited Warranty
Synca Wellness covers the CirQ with a 3 Year Limited Warranty that includes 3 years on Parts, 3 Years on Labor, and 3 years of structural framework.
Very comfortable!
Finally a massage chair with a great massage! Have always loved the bigger massage chairs but never had the room for them. My husband is 6'2" and it still fits him very well. I love how the L-track massages my sciatic area. Fits the perfect small space we have in our bedroom. Everyone who sees the chair loves the look and the feel.
Pleased with purchase
More comfortable and vigorous massage than I expected. Chair well designed, good quality and materials, and easy to use. Nice small footprint. Fairly comfortable to just sit in and read w/o massage. Lightweight and easy to move around. Easy to understand controller. So far, so good...pleased.
Easy
I AM 6'2'' 200 lbs and this chair fit me perfectly. I was shocked how easy to set up and operate. Living in a small apartment I never thought a could have such a great chair. Highly recommended.
AWESOME CHAIR
I have owned my CirC Chair for a year and absolutely LOVE it. I have it in a small space in our master bedroom in front of the TV and we use it daily. It is such a small footprint and you can fit it just about anywhere. It gives you a great massage and rejuvenates you after a stressful day. The only downside to it is it keeps the traffic flow high in our bedroom- the kids come in all too often to use it. There's NO better chair out there at this incredible price point. You will not regret buying this chair.
PERFECT!
The CirC massage chair is so much better than I expected. You cannot find a massage chair for this price anywhere that is this kind of quality.Everyone compliments on the sleek and sharp design, and how nice it looks in the living room. This chair fits everyone too! My favorite part of the chair is how nice the massage is when the heat is on. It is perfect for reading, working on the laptop, watching T.V., or simply relaxing. It\'s also very simple to use which is nice. Best chair for the money!